Therapy Train Stirling CIC has approved organisational membership of COSCA Counselling & Psychotherapy in Scotland and is a COSCA Accredited Training Provider.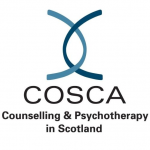 COSCA Counselling Skills Certificate Course
The COSCA Certificate in Counselling Skills training is recognised nationally as an advanced communication training course.
This certificate course is open to any adult interested in developing attuned listening and responding skills, even those who do not plan to become qualified counsellors.
People who work as police officers, teachers, social workers, in health care or social care roles may find this advanced communication course beneficial.
Modules
Each module of this counselling certificate course is made up 30 hours, with 4 modules to complete, totalling 120 hours of training. Our Friday and Saturday courses run from 10:00am – 4:30pm and each Module takes 6 full training days to complete. After each module has been completed, the group will have a two-week break, as per COSCA guidelines.
Fees
Each 30 hour module will cost £365 per participant, making up a total cost of £1,460 to complete all 4 modules (inclusive of the cost of module workbooks).
An initial £365 fee will be due before Module 1 commences. Training fees for modules 2-4 are payable in advance.
Applications
Applications are open on a rolling programme from year to year.
Our next COSCA Certificate course is planned to begin on Friday 12th November 2021 and is now open for enquiries.
The selection process will begin in Autumn and will involve being interviewed online.
All enquirers who complete and return an application will be offered selection interviews.

Applicants will be interviewed by Rebecca and another COSCA trained colleague either via Zoom or at the premises of Therapy Train Stirling, prior to the offer of a training place.
Small group training opportunities like the COSCA Introduction to Counselling Skills Certificate Course can be personally demanding, and this will be explored during initial selection interviews. Participants should consider the emotional impact of a developmental course like this, on themselves and on others in the learning group. This course is based on a humanistic model of relational learning, and depends on the learning group to form a communal support for each individual.
Places will be offered to those candidates who can fully commit to the time and expectations of the course, as per our selection criteria for group based learning.
Selection will be based on full commitment to each training date, ability to work in co-operation with others, undertake 4 different assignments and meet COSCA's Ethical Standards for group training.
Successful applicants will be invited to meet with Rebecca Black and a COSCA Graduate to learn more about the demands of this course and to ask questions prior to the start of the course.
COSCA Counselling Skills courses will continue to be offered in 2022 on Fridays and Saturdays.
The number of places on these courses may be limited to 12.
To enquire about the next COSCA Counselling Skills Course, email: info@therapytrainstirling.co.uk – or call our office on: 01786 451532.