Therapy Train Stirling CIC has approved organisational membership of COSCA Counselling & Psychotherapy in Scotland.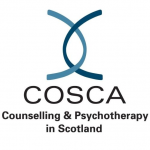 An application for validation of a new COSCA training course at our premises within Stirling Business Centre was successfully approved in September 2019.
Therapy Train Stirling CIC is open to enquiries from applicants interested in enrolling on a COSCA Introduction to Counselling Skills Certificate Course, following organisational approval from COSCA; for details regards our diary of training dates, see the provisional outline of dates below.
Places on each course will be limited to 12 places, so early booking is recommended.
To add your name to the waiting list of potential participant students on our COSCA Certificate in Counselling, email via: info@therapytrainstirling.co.uk or contact our office on: 01786 451 532.
If there is a demand from more than 20 people interested in undertaking this COSCA training course, we will consider two separate training groups.
Rebecca Black is a person-centred counsellor with over 12 years of post-training experience. She completed the University of Strathclyde Diploma in Person Centred Counselling in 2006 and continued to achieve their MSc in Counselling in 2010. During 2017 she achieved the University of South Wales MSc in Play Therapy; and in addition, she is an experienced counselling supervisor.
Rebecca is an accredited member of the British Association of Counselling and Psychotherapy (BACP) and in addition, registered with the British Association of Play Therapists (BAPT).
As a graduate member of COSCA, with experience of supporting student counsellors Rebecca aims to facilitate this new COSCA Certificate in Counselling Skills Training course, from Autumn 2019, at the premises of Therapy Train Stirling CIC, 35 Stirling Business Centre, 73 Wellgreen Place, Stirling, FK8 2DZ.
2019 – 2020 COSCA Counselling Certificate Training
Module Fees
Each module of this counselling certificate training makes up 30 hours, offered over selected Saturday afternoons during 2019 – 2020; there are 4 modules to complete over this period, and in total the course comprises of 120 hours of training.
Training Costs
Each 30 hour module will cost £365 per participant, making up a total cost of £1,460 to complete all 4 modules (inclusive of the cost of module work books).
Potential students will be interviewed at Therapy Train Stirling, prior to the offer of a training place. Small group training opportunities like the COSCA Introduction to Counselling Skills Certificate Course can be personally demanding, and this will be explored during initial selection interviews. Participants should consider the emotional impact of a developmental course like this, on themselves and on others in the learning group. This course is based on a humanistic model of relational learning, and depends on the learning group to form a communal support for each individual.
An initial £365 fee deposit will be due, after a place on the course has been offered in advance of the first training day in October; as payment for module 1; and training fees for modules 2-4 are payable in advance. After each module has been completed, the group will have a two week break, as per COSCA guidelines.
Module One – Provisional Timetable
Therapy Train Stirling is a new company in the heart of Stirling & was set up in August 2019 as a Community Interest Company. The company was awarded organisational membership of COSCA and can now accept applications from adults aiming to achieve the COSCA Certificate in Counselling Skills, guided by Rebecca Black who will be the Course Leader.
The first training group will begin when there are 9-12 registered applicants.
To request an application form, email: info@therapytrainstirling.co.uk or call our office on: 01786 451 532.
This new COSCA training course is ready begin in November, and is ideally suited to adults willing to further develop focused communication skills.
People who work as teachers, in health care or social care roles may find it particularly beneficial. The course involves attending training dates on selected Saturday afternoons from Autumn 2019 to Summer 2020.
Applicants will be interviewed by Rebecca prior to the offer of a training place and If there are more than 20 people who wish to undertake this training course, Rebecca will consider offering another training group in early 2020.
Sat 16th Nov 2019 – 12:00 noon- 6:00pm
Sat 23rd Nov 2019 – 12:00pm – 6:00pm
Sat 30th Nov 2019 – to be confirmed
Sat 7th December 2019 -12:00pm – 6:00pm
Module One resumes on Saturday 11th January 2020.
Module Two begins on Saturday 14th March 2020
Module Three begins on Saturday 30th May 2020
Module Four – date to be negotiated